Fabrics made from recycled and earth-friendly materials are all the rage these days. There is nothing cooler than being fashionable and treating Mother Earth with kindness. Candy wrappers, trash bags, fast food wrappers, and newspapers can all be turned into great outfits. Here are our favorite looks made from recycled products and their packaging.
1. No Mayo
In honor of Fashion Week, Subway challenged designers to create one-of-a-kind outfits from their packaging for an event that they called Project Subway. We relish the results: fresh looks for the fashion-conscious!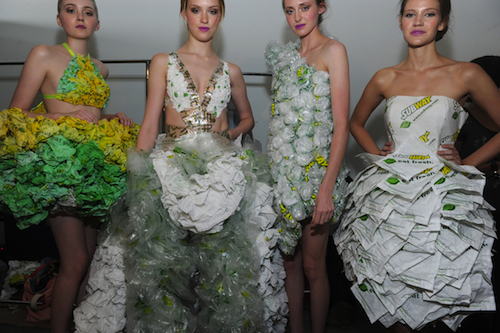 Image Source: Huffington Post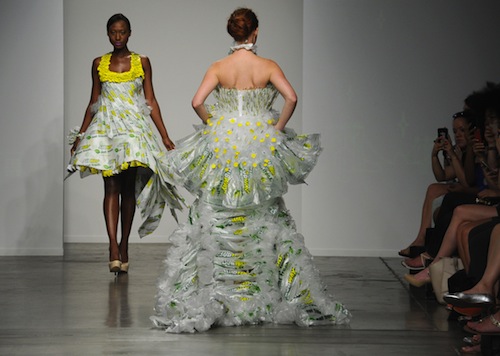 Image Source: Huffington Post
2. Bursting With Flavor
For her senior prom, Tara Frey of River Falls, Wisconsin wore a dress entirely made out of Starburst candy wrappers. It took Tara's mom, Kerrin Frey, six years to collect all the wrappers and five failed attempts before she finished not just the dress, but also shoes and a purse for Tara, and a vest for Tara's boyfriend. The wrappers were meticulously folded, braided, and hot glued. Lucky for Tara and Kerrin, the prom's theme fit right in: Candyland.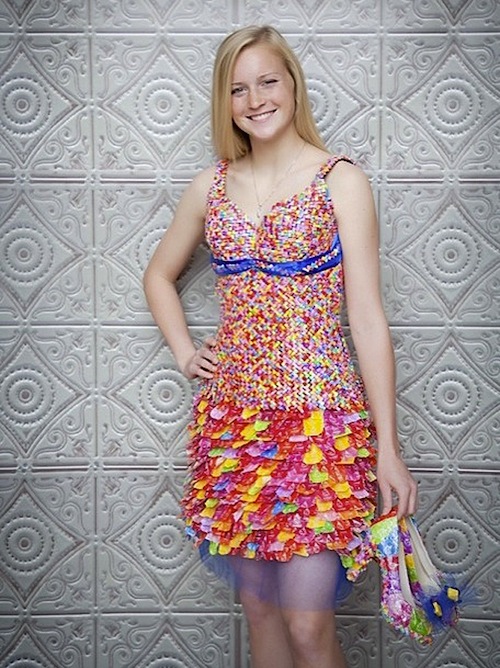 Image Source: Bitrebels
3. Pass the Scones
Are you a tea lover? Do you think that the tags are so beautiful that you just hate throwing them away? Perhaps that's what motivated jeweler Florence Jaquet to craft this "tea shirt." Actually, the artist calls the piece "real life social networking," as each tag represents spending time with good friends over a cup of tea.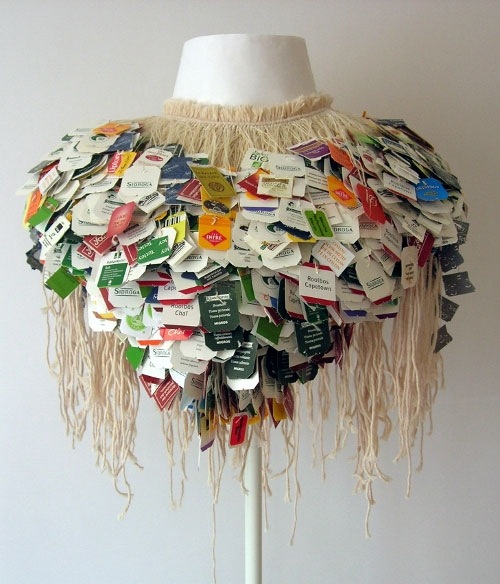 Image Source: klimt02
4. Truffle Ruffles
Do you often find yourself in need of delicious chocolate on the go? We've discovered the perfect solution – truffle-based clothing. Lindka Cierach, who also created the Dutchess of York's wedding gown, designed the Lindor dress and crafted its skirt from one thousand Lindor truffles in their wrappers. The ideal frock for a cocktail affair that lacks a dessert buffet!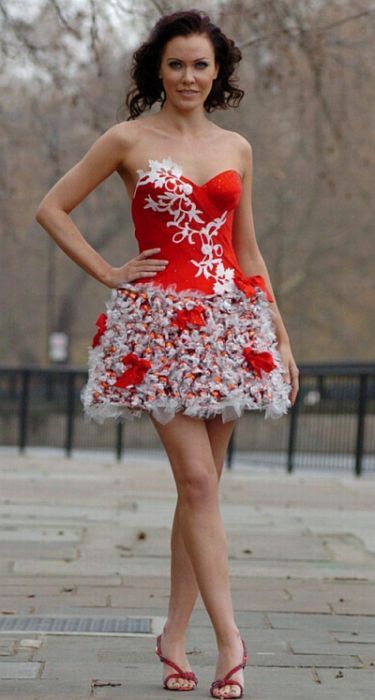 Image Source: FanPop

5. Peanut or Plain?
This one of a kind dress made from 600 peanut M&M wrappers was designed by Chicago couturier Christina Liedtke in honor of the 40th anniversary of Earth Day. To make the gown, Liedtke cut 1800 flowers from the M&M wrappers and sewed them onto a silk lining in a process that took over 100 hours of labor. We're just wondering who got to eat all the M&Ms?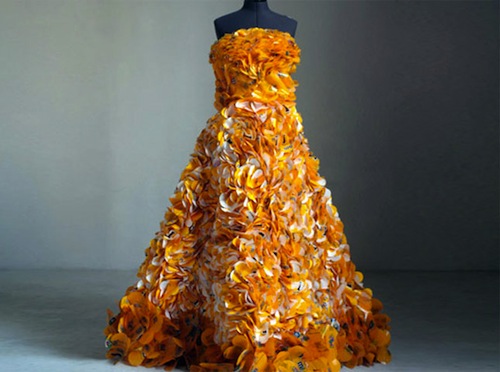 Image Source: Ecouterre
6. Sweet Royalty
This beautiful ball-gown made out of various candy wrappers is absolutely fit for a queen. The skirt might be a little hard to maneuver, but it would certainly cover up any weight gain from eating all those treats.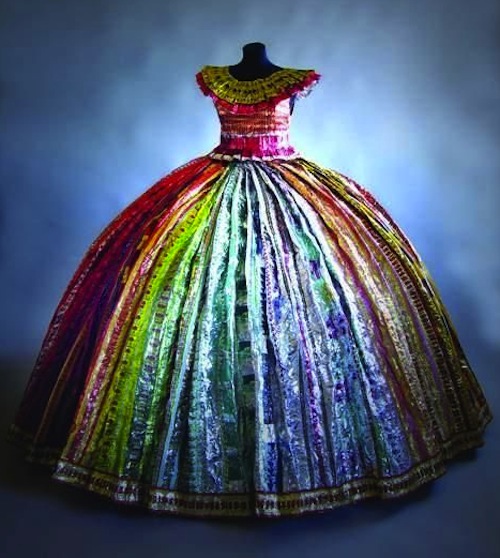 Image Source: Pinterest
7. Classically Clad
Recycled clothing isn't just for the ladies. This awesome teen fashioned his prom attire – jacket,, vest, and bow tie out of Coke cans. Now that's one way to pop out in the crowd!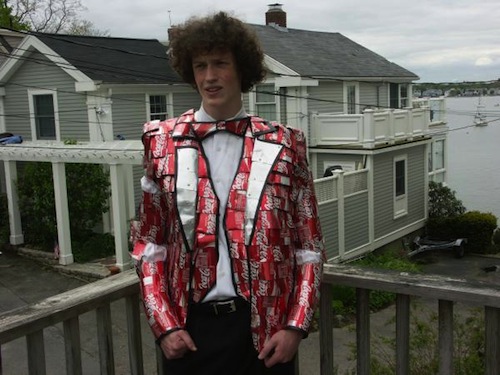 Image Source: Brandish
8. Cup Half Full
Not sure what to do with all those leftover cups after a long night of beer pong? Why not wash them out and turn them into a gorgeous cocktail dress? In the fifth season of Bravo's Project Runway when the designers were challenged to buy their dress making materials at Gristede's supermarket, contestant Daniel Field make this hot little number out of blue Solo brand plastic cups. You won't be solo for very long if you're wearing this sexy number!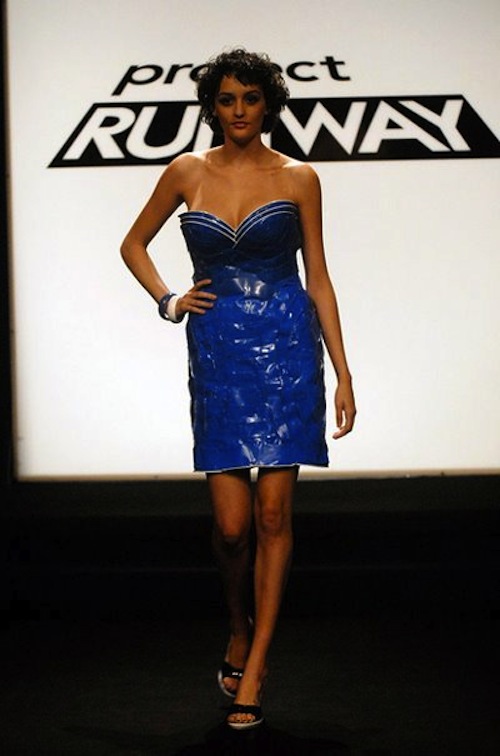 Image Source: Westword