The spring holiday of Passover is upon us, celebrating the emancipation of the ancient Israelites from slavery in Egypt. To commemorate the holiday, these 10 fan artists exercised their artistic freedom and found rich material both through favorite fandoms and iconic brands that have come to symbolize the holiday in modern times.
Why so blue, Pharaoh?
Artist Zaske has reimagined Pharaoh, the villain in the Passover story that refused to let the Israelites go, as Gargamel, the evil wizard that wants to use the Smurfs for his own nefarious plans (like making gold). The writing in Hebrew is based on a saying, "We passed Pharaoh, we will pass this as well," which Zaske changed to read, "We passed Gargamel, we will pass this as well."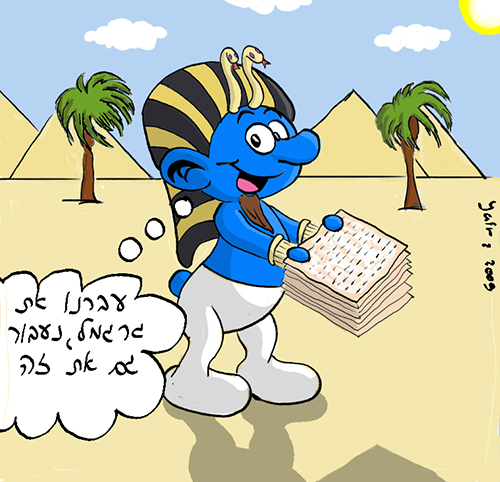 Image Source: Zaske/DeviantArt
My mother always wanted me to marry a Doctor...
The Passover story moves through time and space, and from generation to generation, through the ritual reading of the Haggadah. We think Dana Shukartsi's Matzo TARDIS accomplishes the same mission fueled by some pretty phenomenal Whovian chutzpah.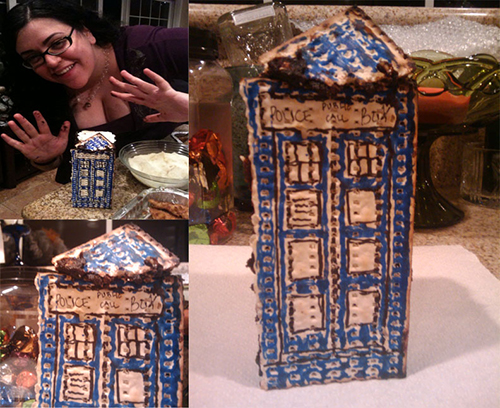 Image Source: ComicImpact/Dana Shukartsi
Let My Babies Go
One of the most popular Rugrats episodes ever was "A Rugrats Passover," where the babies accidentally get locked in an attic with Grandpa Boris, who then tells them the story of Passover. This homage to the episode by JoshHead224, featuring Tommy Pickles as Moses and Chuckie Finster as an abused Hebrew slave, is fittingly colored in Manischewitz grape.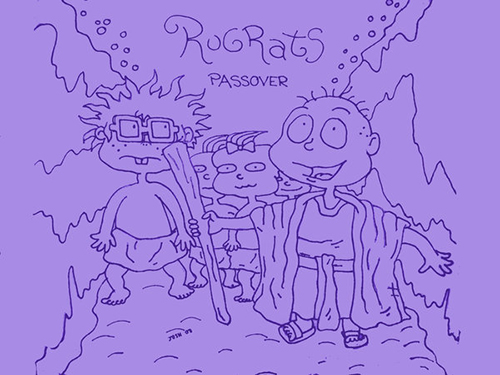 Image Source: JoshHead224/DeviantArt
Pokématzo
It's a Pokémon battle for the matzo! Or maybe more like a Pokémon battle against the matzo -- these little pocket monsters by Kensey-Chan don't look too happy about their "prize."

Image Source: Kensey-Chan/DeviantArt
Matzo Man
Artist Jonathan Stein takes every day objects and turns them into Swarovski crystal-encrusted feasts for the eyes. His bling box 'o matzos is a Seder showstopper we'd love to feature on our festive table.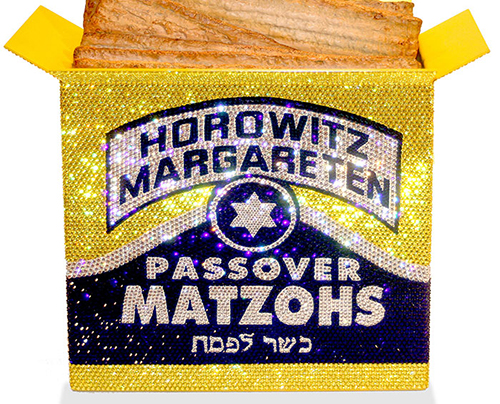 Image Source: Worship The Brand, "Q&A With Artist Jonathan Stein"
A Pop of Purple
Throughout the reading of the Haggadah, four cups of wine are traditionally drunk. Artist Murray Eisner puts a pop art spin on the Manischewitz and doubles down with his delicious take on the sweet Seder staple.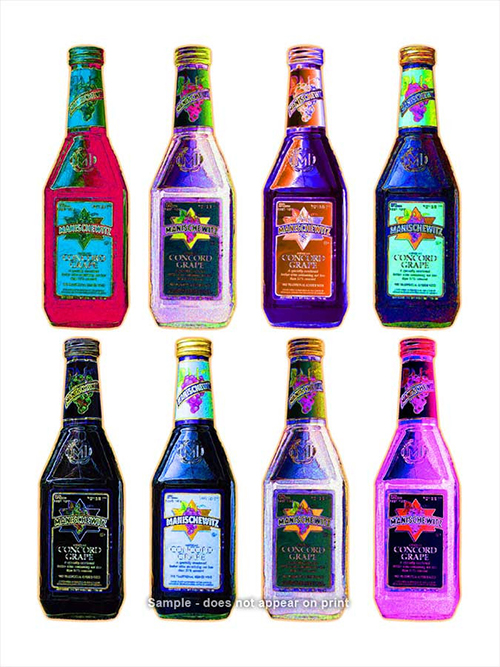 Image Source: Murray Eisner, EisnerArt
Miraculous Matzo Nails
There's no reason to Passover giving yourself a fabulous holiday look – grab your inspiration from this awesome matzo nail art courtesy of Jenny at 10BlankCanvases.com.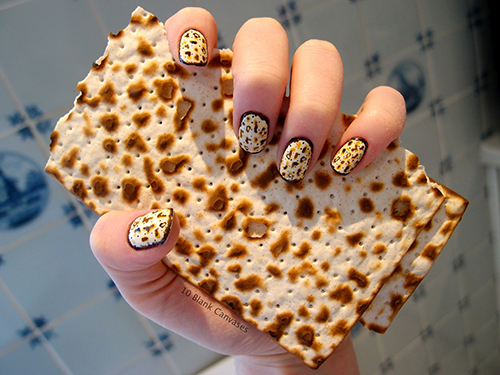 Image Source: 10 Blank Canvases
The 11th Commandment
Symbolically matzo is eaten during Passover because Pharaoh only gave the Hebrews a short time to get out of proverbial Dodge before he changed his mind. There wasn't even time for the bread to rise before the exodus kicked into high gear. In "Let My People Go Already," artist Josh Pincus honors the birth of the Passover staple. (For a more detailed story behind the piece, check out "If: journey" on JoshPincusIsCrying.com.)
Image Source: Worship the Brand
Pesach Purse
Judaikitsch by Jennifer Traig and her sister Victoria Traig is the ultimate DIY guide to "Tchotchkes, Schmattes & Nosherei." While you might be tempted to bedazzle a pair of Starlet of David sunglasses, craft a Neil Sedaka "Tzedakah" box, or make your own actual Borscht belt, your Passover would surely be crummy without a matzo meal purse to carry around all your gelt when you find the Afikoman ("dessert," which is hidden during the Seder and hunted for once the meal is over).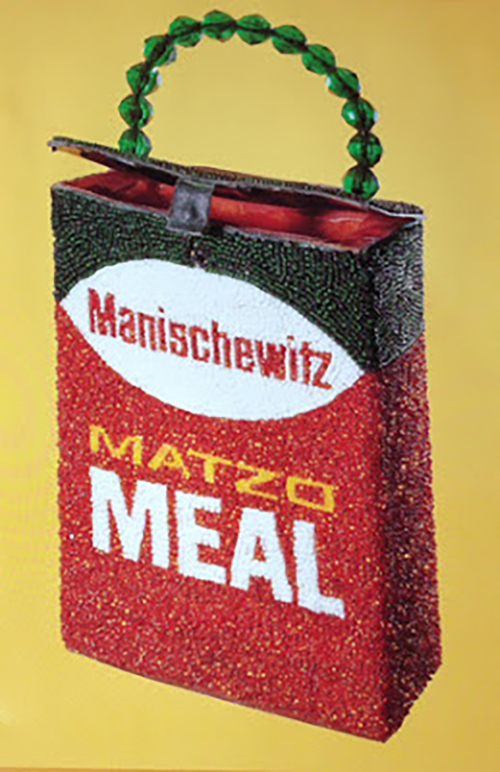 Image Source: Judaikitsch by Jennifer Traig and Victoria Traig
On A Mission from G-d
For the most religious, in the weeks leading up to Passover, there is a very intense process of getting rid of anything in your cupboards of any food that is leavened (has been allowed to rise). This pantry full of non-kosher chips is a Passover minefield – no wonder artist Yerushalyim45 is sending in GI Joe to do the deed!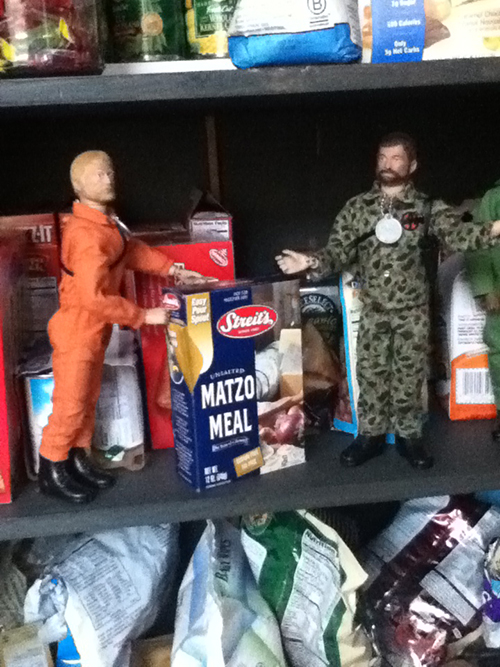 Image Source: Yerushalyim45/DeviantArt