Jonathan Stein appropriates iconic brands to make a personal statement through his stunning, hand-cast bronze sculptures that he encrusts with thousands of Swarovski crystals.
1. Can you describe when you first realized that creating was something you had to do?
Ever since I was a child, I've had a love of the arts. Whether I was moving food around on my plate creating portraits with mashed up peas and broccoli, or tackling grade school art dioramas, art has always coursed through my blood.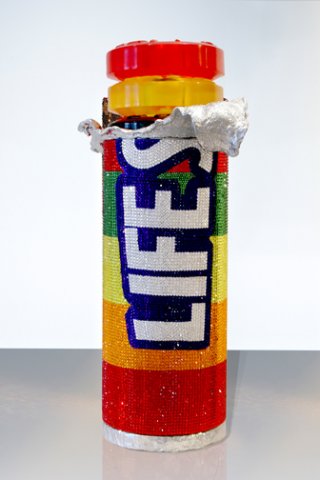 2. How did you get started making your glitzy, shiny iconic brand art?
I was in a college commercial product photography class over ten years ago. Other students were setting up normal product displays like soap in a dish or cereal in a bowl with the box beside it. I never wanted to produce the type of art or photography others so readily made. Inspired by Warhol's concept of honoring beloved iconic brands mass produced in the 1950s, I hand-selected campy foods that were once staples of the American diet but now are viewed as kitschy -- Ritz Crackers, Cheese Whiz, Oscar Meyer bologna. I began by hand sequining the packaging and setting the foods up in elaborate opulent settings before taking over-the-top commercial portraits of them. Things have evolved over the years conceptually and also in terms of art making; I now hand cast larger-than- life versions of each item in bronze, and jewel encrust each work with tens of thousands of Swarovski crystals, also applied by hand. It's a lifetime work in progress as I explore the internal and external power that shiny, sparkling material objects play in our daily lives.
3. What's your favorite thing you've ever created?
My two favorite pieces to date are my Alot-of-Spam and my Midlife Crisis (Lifesavers) pieces. I love the overall color palette of both works; they are bright, cheery, and stop people most in their tracks. Both pieces are also some of the most complex designs I have had to figure out, whether it's creating an internal bolting system to house a tray of Swarovski Spam or creating the internal system to house each two-pound hand-cast resin Lifesaver poking out of the top of the wrapper. They look simple to fashion, but the months of development to make them come to life was exhausting and impressive.
4. What are you trying to communicate with your art?
My work is parody. I pay homage to beloved brands we've grown up with, but I also call into question society's need to over consume. We are a nation of overeaters with ALL YOU CAN EAT and bigger is better mentalities. If something catches our gaze and excites us internally, we must devour it at all costs! My work tackles very serious issues underneath a shiny veneer, but it also can be valued at any age for its bright, shimmering look and for how it's guaranteed to make you smile or chuckle. The communal joy and marvel that my work evokes is one of the greatest rewards and one of the main reasons that I produce this art.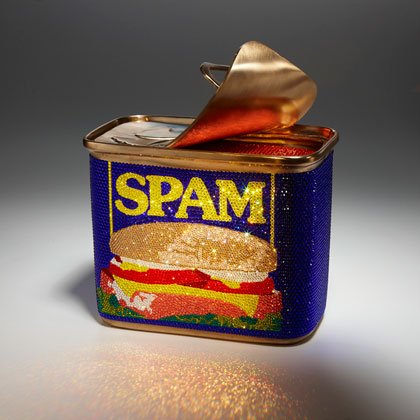 5. What's the best advice you have ever had about how to be more creative?
Ignore those who can't see your vision. I've always felt that when one aspires for greatness and creative originality, you have to push past many who challenge "why" as artists we do what we do. Art to me is like breathing; I would cease to be if I wasn't creatively expressing myself daily. We are always told to be ourselves, and I second that, but I also stress trusting your creative gut. Understand why the voice in your heart seeks to produce and don't deny that inner voice or you'll feel cheated. The greatest thing about being an artist is using your personal creativity as a voice to waken the spirits of others around you. Go for it!
6. How do you choose which brands you're going to re-interpret?
Typically I choose iconic brands that are woven into the fabric of our consumer lives. The majority food brands I parody are fast food in nature and support the idea that if you dress up highly caloric consumables, you surrender resistance to them. My Going, Going, Gone?! My Twinkies wall piece was a time-sensitive work that explored what's at stake if a legendary brand disappears. Sometimes I work closely with companies that wish to glamorize their products or launch new campaigns. I do endless charity works to help struggling non-profits like food banks. I also have pieces that celebrate my own personal history like my bronze Matzoh Box (The Reason My People Can't Go).
7. Who inspires you?
I glean inspiration from everyone and everything. Artwise: Andy Warhol, Judith Leiber, John Waters, Peter Anton, Vik Muniz, Magritte, Alexander McQueen, and so many more. In Life: Those who overcome adversity, those who fight on behalf of those without, volunteers, teachers, the underdogs, and anyone that still cultivates kindness despite how easy it is to be cruel these days.
8. What story do the Swarovski crystals tell?
Love the question, but I'm not sure I could answer it without a long-winded poetic soliloquy where I reference orchestral symphonies and enchanting metaphors to liken the light dancing off the stones to Fred Astaire and Ginger Rogers whirling around a dance floor. (Laughs.)
9. How long have you been doing this for?
Professionally, for over ten years and counting.
10. Besides consumer culture, do you have any bizarre or unusual sources of inspiration?
I've always been fixated on tiny and gigantic objects. Normal sized anything is boring. But mini-sized replicas of everyday objects or Claes Oldenburg larger-than-life creations leave me in a state of awe and wonder. Anyone that can produce high realism in art leaves me breathless, especially Peter Anton's chocolates and donuts.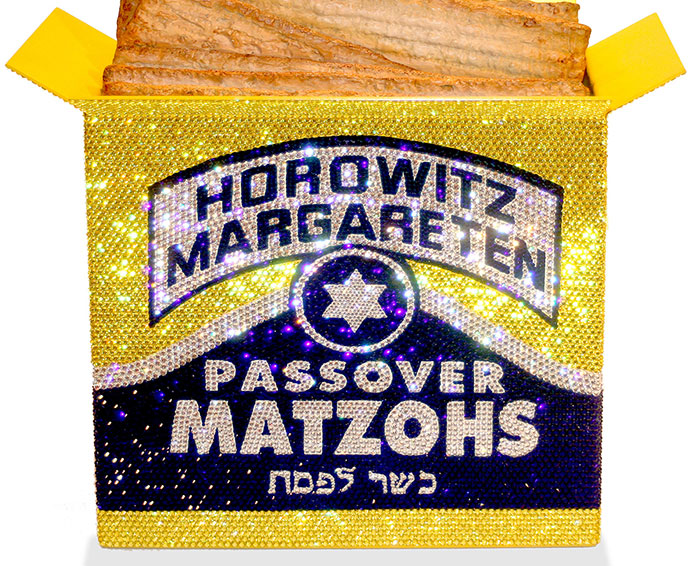 Jonathan Stein was born in the Bronx, New York in 1978. Classically trained at Boston University, Stein received a Bachelor of Fine Arts in Art Education with a minor in Photography and Art History. He also graduated from the New York Film Academy. In 2003, Stein received the coveted "Best Commercial Photography Portfolio" from the Art Institute in Fort Lauderdale.
A conceptual artist well-versed in sculpture, painting, and photography and video installation, Stein asserts that, "the concept dictates what medium I work with." Offering bold social statements cleverly concealed behind sparkling crystal veneers or faux sugary frosting, Stein's work asks his audience to "indulge" in imagery that excites the mind, intrigues the eye, and tempts the stomach.
Stein's art has appeared in countless publications, and he has had solo and group shows in the United States, Europe, and Latin America. His work has been a staple at Art Basel Miami Beach for over eight years running.
Noted for his philanthropic work benefitting children and women in distress and aiding developmentally disabled adults and children, Stein has joined forces with celebrities and companies alike, including Katy Perry, Gibson Guitar, Office Depot, NASCAR, and Remy Martin Cointreau, to name a few. Stein currently serves as the creative director of Drops of Hope, Inc., a 501(c)(3) non-profit in South Florida that provides specialized services to pediatric cancer patients and their families.