If there were a Super Bowl for brand-inspired and fan art artists, Erin Lareau would be a shining star player. A costume and accessories designer who's been creating beautiful outfits, mics, stands, and guitars for Katy Perry since 2008, Erin's also worked with countless other luminaries including Taylor Swift, Pink, Slash, John Mayer, and many more. As a fine artist, she "paints" with crystal gems, and her dazzling work has been exhibited at art galleries and museums, as well as the crème de la crème of shops including Tiffany's and Geary's of Beverly Hills. We sat down with Erin to discuss everything from the joy of sparkles to creating for Katy and the grit it takes to design and build a 10' tall crystal-encrusted guitar.
You're both an amazing artist AND an incredible costume designer – how does your work in each arena influence the other?
It was my work in costume design that led me to the crystal work – the sparkly costumes were another level from plain, unembellished ones. In the '90s I began my first crystal art project – a pair of jeweled high heels. They got such a reaction that I couldn't bear to put them in the closet, so I put them on the dresser next to this vintage make-up mirror. And then I did the mirror frame... and then I just had to do something for every room in the house.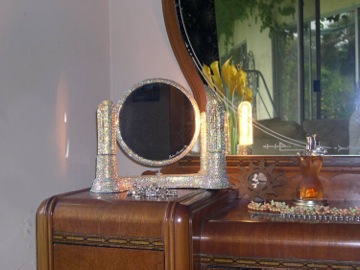 You work primarily with Swarovski crystals – how did you start working with them, and what is it about them that you like?

Swarovski crystals are the best quality – they have the most shine and staying power. When you are putting in so much labor you want the result to last!
You've been working and touring with Katy Perry for years now – her shows are stunning, outrageous, and incredibly imaginative. What have you designed for her, and which pieces are your favorites?
Katy works with the top designers in the world and has a longtime stylist, Johnny Wujek, who has talent to burn. I have been so lucky to have been asked to design and create various things for Katy, from a Pop Art look for her band and dancers, to my favorites, which are her sparkly mics, stands, and guitars.
For the very first mic I created for Katy, I heard from her team that she likes fruit – so I came up with a cherry themed mic. She used it an awful lot for a long time.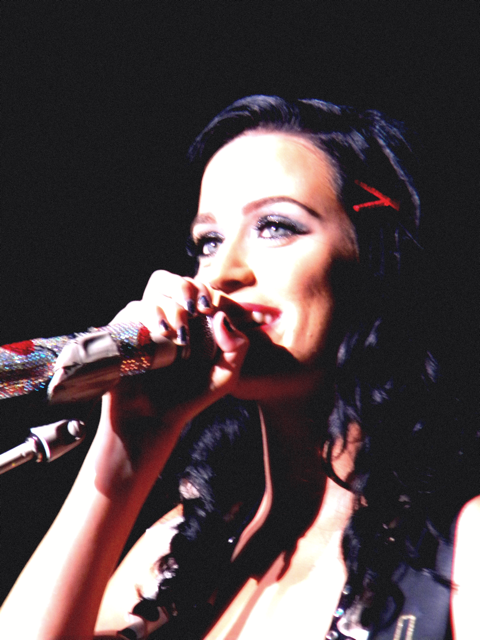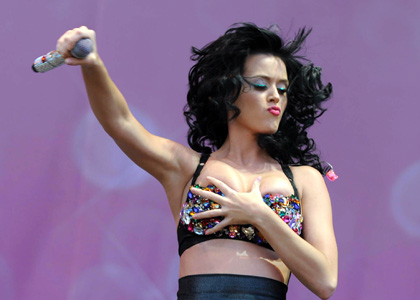 A few years later I was called in during the prep for her California Dreams Tour. I did the Candy Stripe guitar, a bar stool for her ballads, four bling mics, and three mic stands.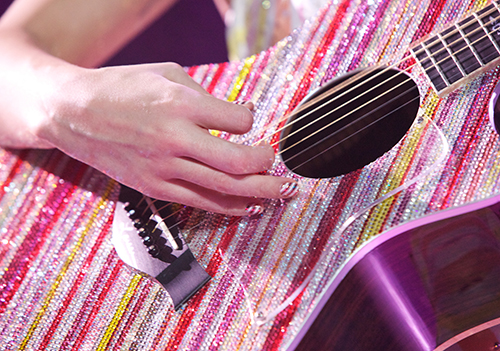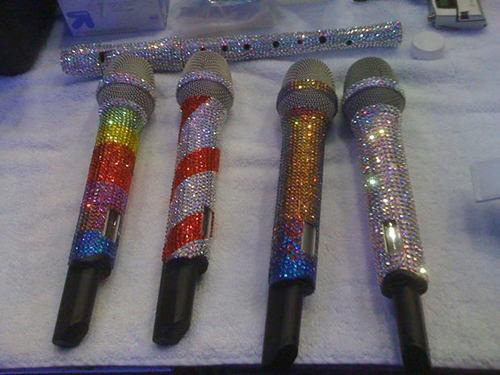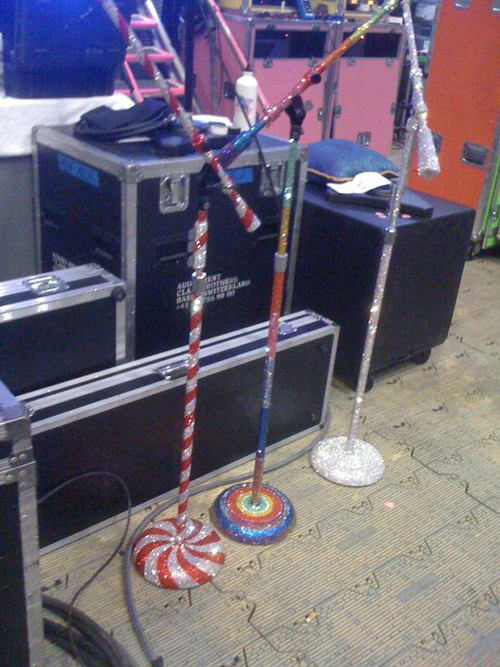 Then I met Katy's stylist, Johnny, and suddenly I was embellishing denim shorts, shoes, fishnet stockings.... and next thing I knew I was going on tour.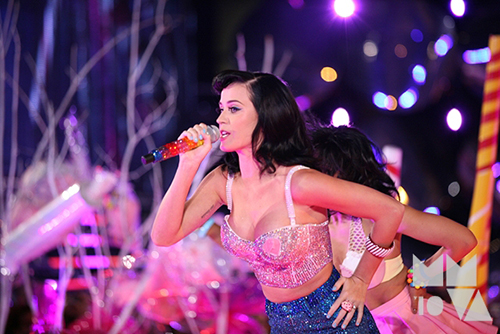 I'm also fond of some "Cupcake" dresses and tiaras I created for Katy's backing vocalists for her California Dreams Tour.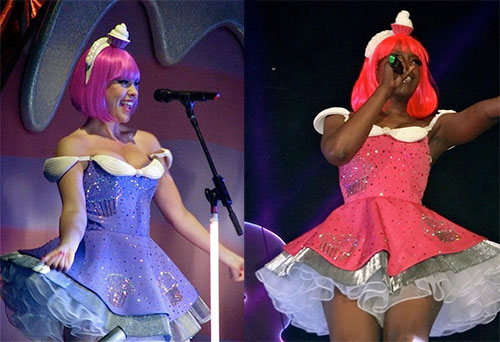 To what extent do you collaborate with Katy?
On the California Dreams Tour I heard the theme was Candy, so I came to her with a Candy Stripe guitar design (among others – but that was the clear standout to both of us).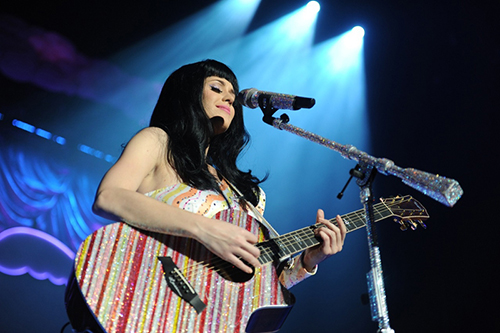 The way it works lately is that Katy will tell me what she's thinking about for an event or performance, and I'll do some sketches. Then she'll pick from those or we'll choose together. For example, for the current Prismatic World Tour, Katy told me that she wanted a sunflower guitar, so I did some sketches, and she picked one. Later on she asked for a butterfly guitar, so I drew some ideas for that, and when I showed them to her, she asked which was my favorite -- and then went with that :-)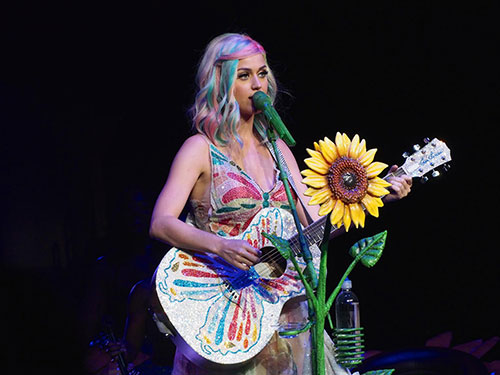 Will be Katy be featuring any of your creations for the Super Bowl? Any hints would be great!
Oh she's going to SPARKLE all right. I'm at 15,000 crystals and counting. She's going to BRING IT!
How is it different to design for musicians than for TV/film?
With TV and film, you are serving a script and characters. For music there is often a theme, so it's not as specific.... or then again, maybe it is! Also, for artists on tour, durability and being able to change costumes quickly are big factors.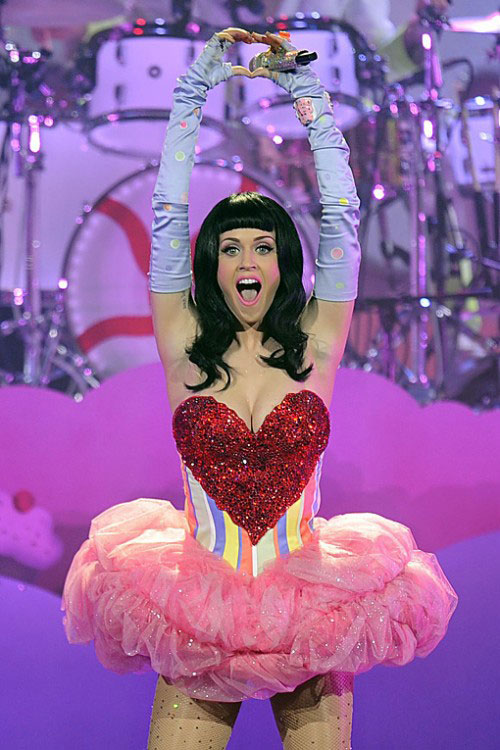 Image Source: Celebrities Gallery 2011
Do you listen to the music that you are designing for?
Over and over!
You created a 10' tall Swarovski-encrusted Gibson guitar that graced the Sunset Strip, which was amazing on many levels – from conception to creation and on to completion. Tell us how you came up with the idea, and what it took to execute that piece.
Someone who knew my work suggested that I apply to be one of the 25 artists chosen to embellish guitars for Gibson Guitar Town on the Sunset Strip. Serendipitously, I had just met with Katy about a jeweled guitar and she had chosen the Candy Stripe design, so I asked if she was okay with a ten-foot version on Sunset Strip with her name on it. I mentioned that it would be auctioned for a charity that supported music training in schools, so Katy gave it her blessing. Then Gibson selected the design as well, and Swarovski generously sponsored the crystals. I picked up the ten-foot tall blank white guitar and was given just three weeks to complete the piece. It was kind of an every waking hour situation to get it done in time! Then I made the playable, regular sized Candy Stripe guitar for Katy. By the way, after a year and a half on Sunset Strip, Team Katy bid and won the guitar at auction. FYI, my honorarium was just $150.00 to cover paint. I kinda went the extra mile, like many artists do.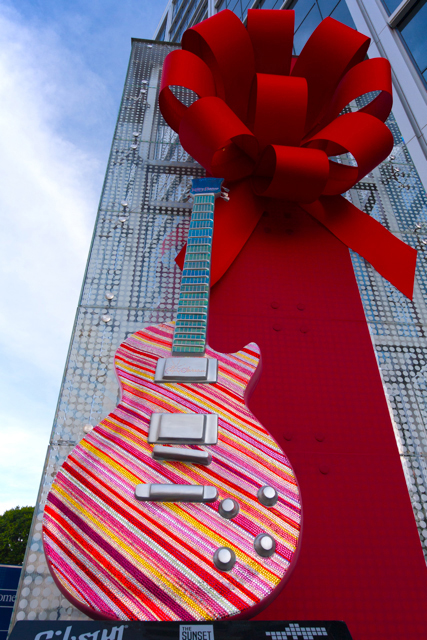 You've created some spectacular brand-inspired and fan art – a Hello Kitty toaster, pave portraits of Katy Perry, etc. Are you generally inspired and motivated to include pop culture in your work?
Yes – I'm inspired by both Fabergé and by Pop Art. For instance, I loved turning a vintage Keystone movie camera that I inherited from my late dad into a witty, glam, and unique iconic purse for the Academy Awards. It was a bonus that the Associated Press called it the "Best Purse of the Evening."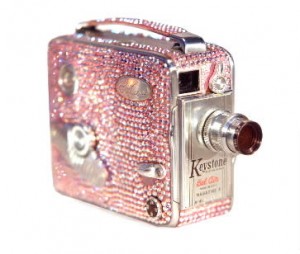 Recently on the Prismatic Tour in Australia, I created a custom bling HELLO KITTY Toaster, which Katy autographed for an auction benefitting a kitty shelter. We raised a few thousand!
I've also had some fun with Barbie...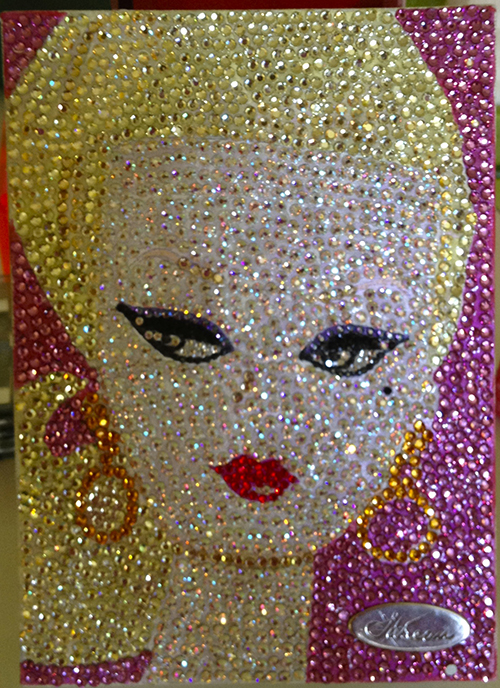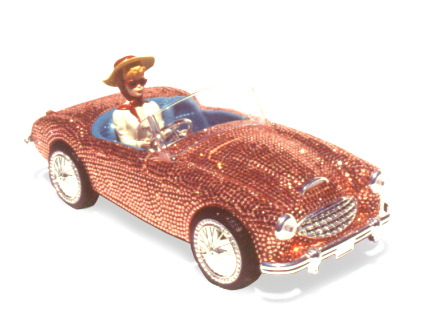 And I've even done portraits of Katy!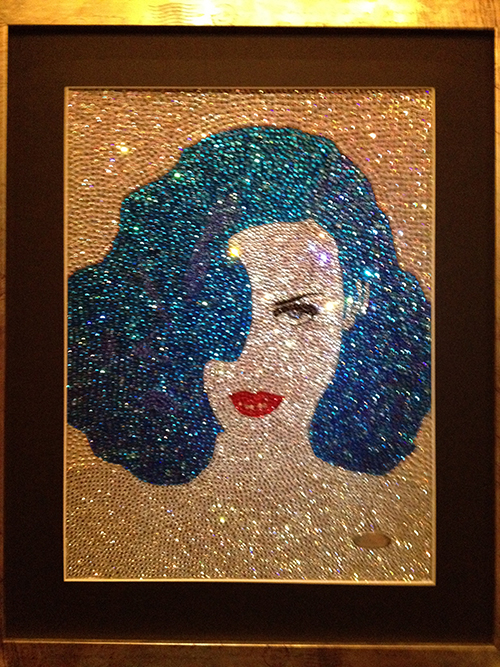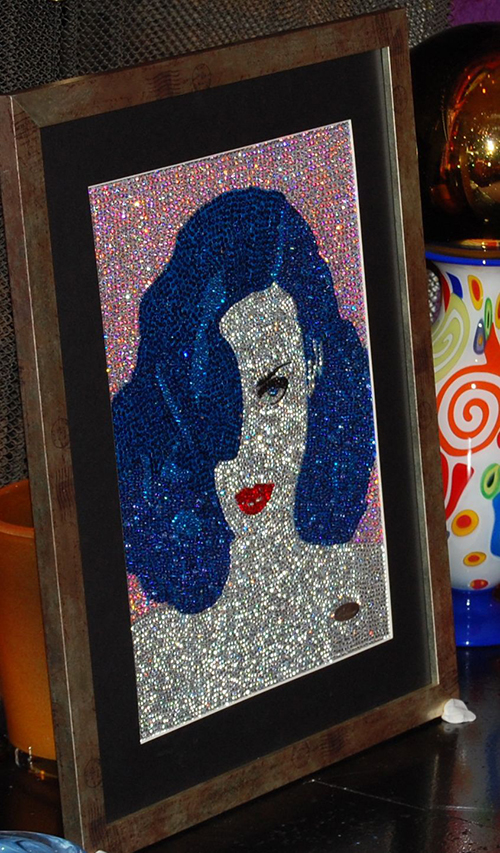 What advice do you have for young artists?
Just do it. Make art. You learn by doing. It always takes longer than you think, but sometimes it turns out better than you imagined! AND it's the most restorative lovely process. I love when I lose track of time.
How do you stay motivated?
Other art and artists inspire me all the time, including fashion design and architecture, too. I was asked once to design a dress inspired by the work of Frank Gehry not long after the Disney Hall went up. It was SO. MUCH. FUN!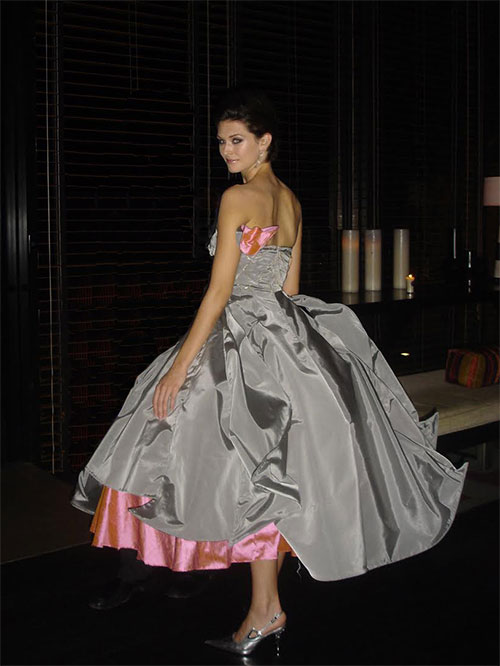 For more on Erin Lareau, check out her art website and her costume design website.
All photographs courtesy of Erin Lareau, unless otherwise noted.