Disposable coffee cups usually get tossed in the garbage or recycling when the coffee dries up, but amazing things can happen when artists not only hang on to the vessel that held their morning coffee, but spend loads of time adorning them!! Recently, some awesome Starbucks worshippers have illustrated the cups and sleeves that once held their morning cup a 'jo to amazing results. We guarantee you won't ever look at a paper coffee cup in the same way.
1. Morning Cartoons
Josh Hara is the creative director of an ad agency in Ohio, a coffee lover, and an ace doodler. He combined two of his passions when he started drawing cartoons onto his morning Starbucks cups. He's done one every day since February 2014- they can all be found on his super sweet Instagram account (@yoyoha). A great way to start the day!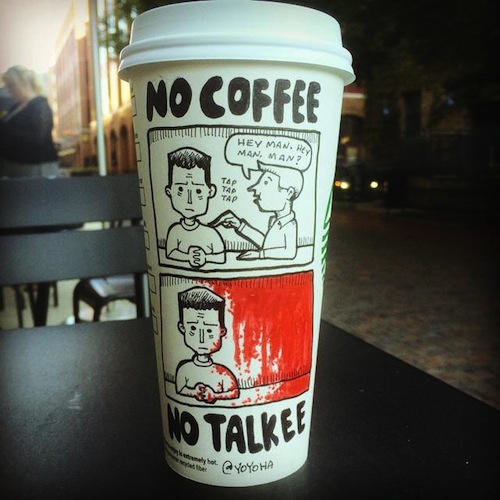 Image Source: Laughing Squid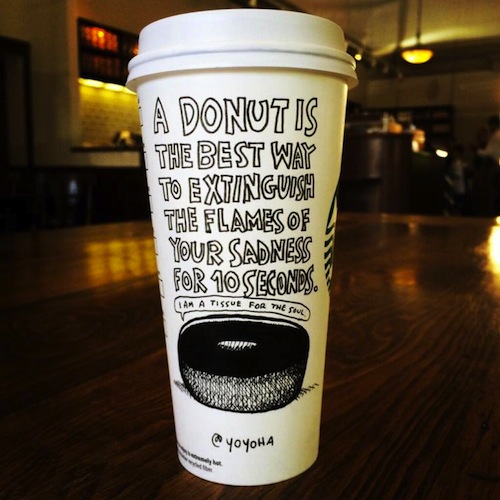 Image Source: Laughing Squid
2. Lord of The Cups
British artist Liam Kenny must really get along with his Starbucks barista because he gifted him one of the most awesome cups ever! Kenny spent five hours tinting a Starbucks cup with tea to resemble an old map and then covering it with a highly detailed map of Middle Earth. Do think Gandalf preferred coffee or tea?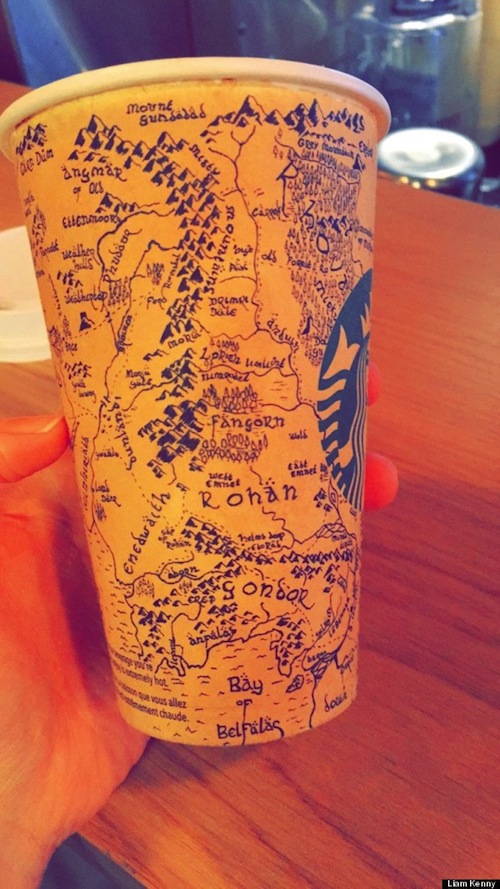 Image Source: Huffington Post
3. Art on Your Sleeve
While we are absolutely fond of the Starbucks mermaid sometimes we'd like to change it up a little. Instagram artist, Ahmed Alemairi (@emairi), has done just that. He draws over the famous mermaid to create drawings of celebrities, animals, and other scenes. Clearly Alemairi knows the important of protecting your hands from hot drinks and keeping it fresh.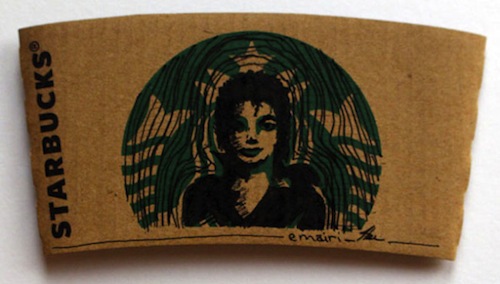 Image Source: foodiggity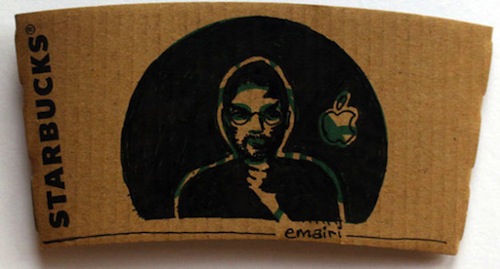 Image Source: foodiggity
4. Mermaid Adventures
Artist Soo Min Kim also makes art out of the Starbucks mermaid, but instead of doing it on the sleeve he does it right into the cup. Kim's drawings retain the green and white palette of the original Starbucks branding, but take the mermaid on some fantastic adventures outside of the cup. Kim also combines the mermaid logo with other brands like Twitter and KFC to fantastic results. Coffee and fried chicken?! Sign us up!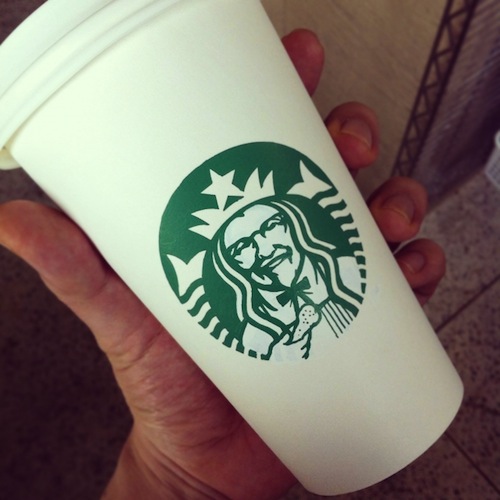 Image Source: AdWeek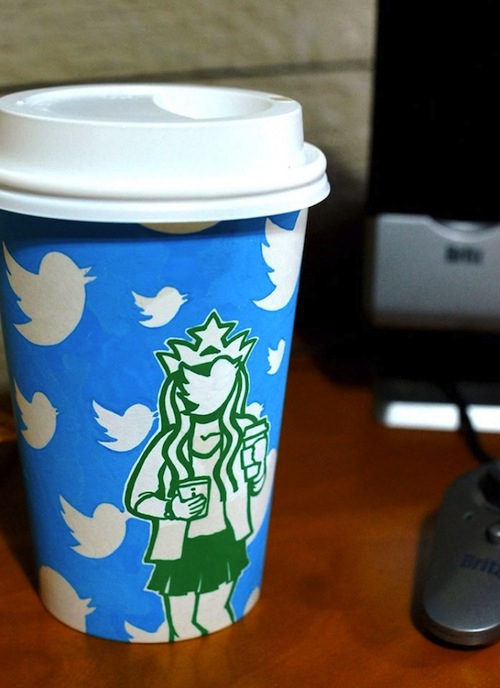 Image Source: AdWeek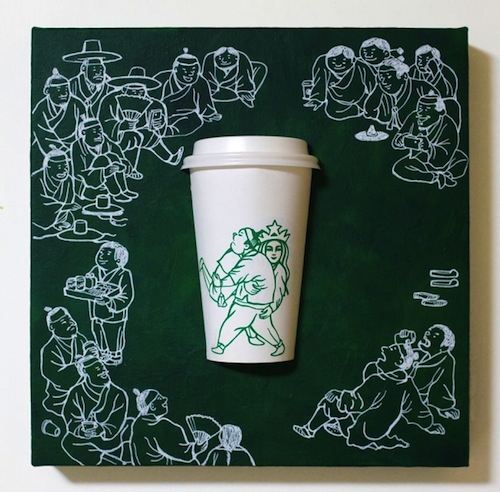 Image Source: AdWeek
5. A True Coffee Artist
Gabriel Nkweti Lafitte doesn't just love Starbucks- he works there too. The central London barista draws onto the actual cups that he gives to customers with their beverages. He works on the cups at home and then brings them in to give out to his favorite customers adorned with their names and wonderfully detailed sketches. What lucky customers!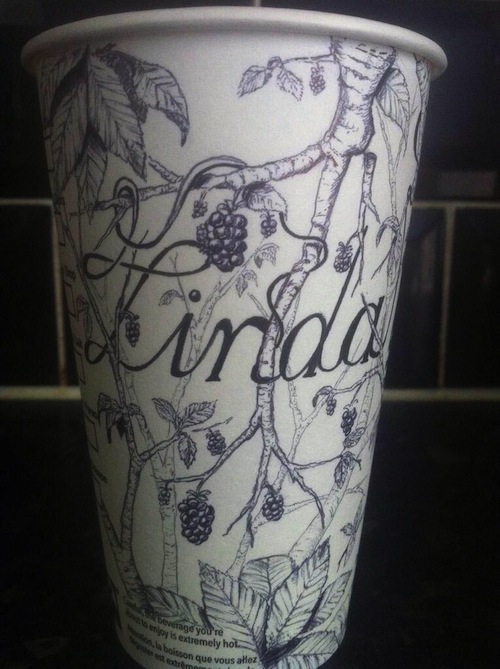 Image Source: Huffington Post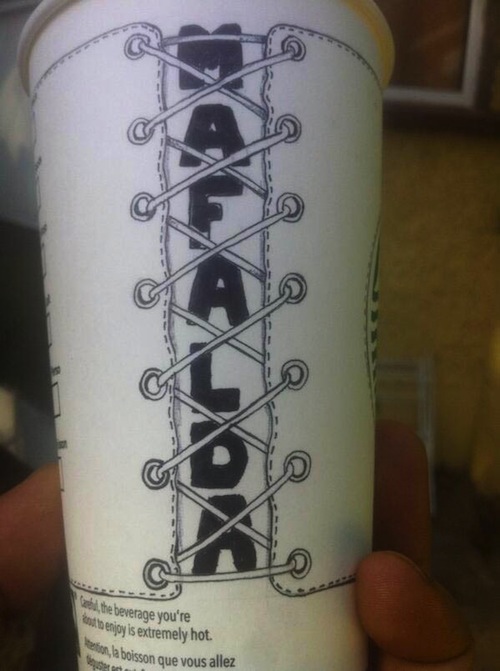 Image Source: Huffington Post