The marketing team at Mad Men called the second half of Season 7 simply, "the end of an era," but fans of Sterling, Cooper & Partners know that after "Waterloo," nothing will ever be the same. So while there isn't much more information about the last seven episodes in the series finale, we do know that we can count on fan art to tide us over until D-Day (Don Draper-Day), April 5, 2015.
Smoke & Mirrors
Early on we learned that Don Draper was really Dick Whitman, born into a life of poverty, prostitution, and no potential that all changed when he assumed the identity of a lieutenant killed in front of him during the Korean War. His whole life is ultimately a grand illusion. Now that his professional and personal lives both hang by a thread, will it all go up in smoke, or will Don, like a phoenix, rise from the ashes to rule again?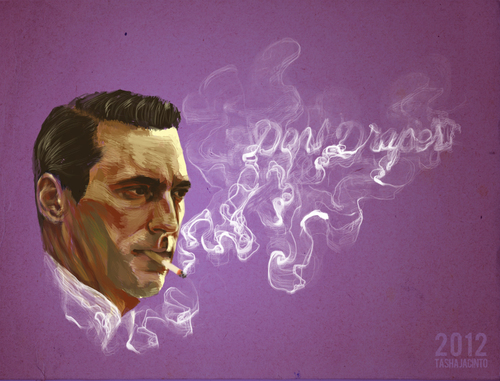 Image source: Tasha Jacinto
Roger That
Don Draper would've stayed a fur coat salesman if he hadn't met Roger Sterling, the founding partner of Sterling Cooper. Roger may be everything from a cad to a consummate salesman, but his 11th hour instincts and brutal deal-brokering with rival agency McCann-Erickson in "Waterloo" leads us to wonder if he just may be the last man standing.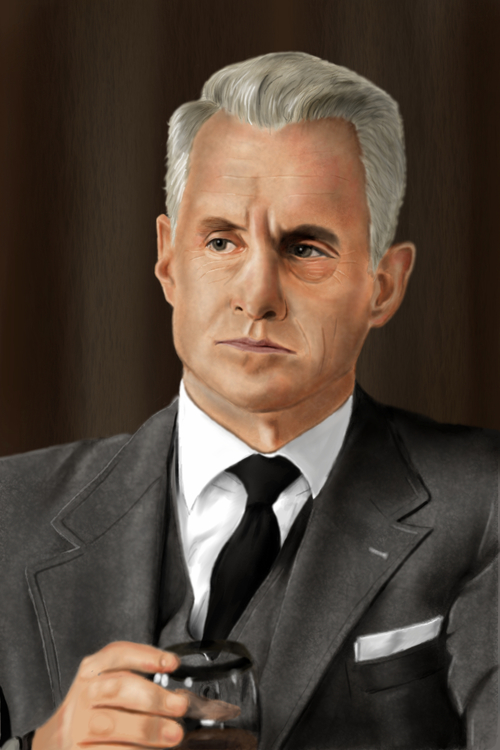 Image source: EoArt/Tumblr
The Way We Were
While Roger may have made Don an ad man, Don's creative vision and knack for getting into the consumer's mind built Sterling Cooper into the powerhouse agency Sterling Cooper Draper Pryce. With two out of four partners left at Sterling, Cooper & Partners, and the McCann-Erickson merger in place, it's clear the ad game is changing.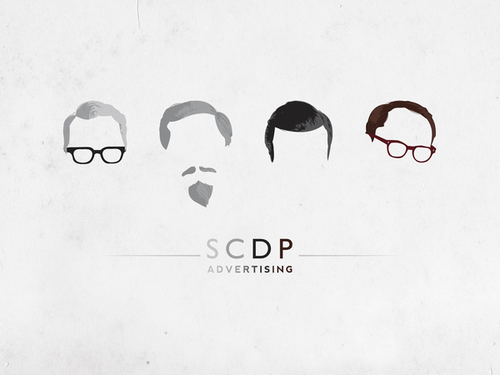 Image source: Alan Segama/Tumblr
The Feminine Ideal
Joan Holloway's smart and strategic rise from office manager to voting partner has been a sexually charged, complicated wild ride. As she navigates her way to financial stability as a single mom, there's no telling what ultimate deals she'll seal as she smokes the competition with feminine and wily ways.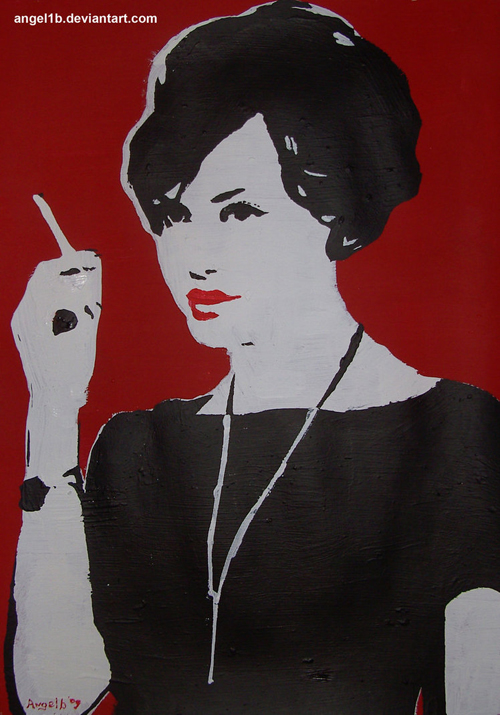 Image source: Angel1b/DeviantArt
You've Come a Long Way, Baby!
The evolution of Peggy Olson from copy-typing secretary to Copy Chief is an elegant – and also maddening, upsetting, intense, and emotional – illustration of the rise of women in business during the Mad Men era. Last we saw Peggy, a man walked on the moon and her star rose at the same time, thanks to a brilliant family-first pitch that Burger Chef flipped for. Will she don Draper's mantle, or will the sexism that's brought Peggy down many times cockblock her from true success?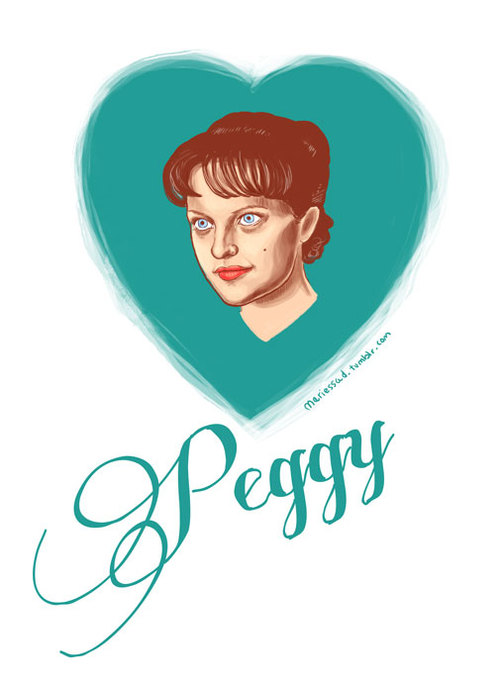 Image Source: Mariessad/Tumblr
Mother Superior
Betty Draper Francis has run the gamut: she's been lied to and cheated on; she's been the liar and the cheater; she's come through for her kids and gone off on them equally. She loves her husband, politician Henry Francis, and also disses his politics. She will always love Don, except when she admits she thinks of him as "an old, bad boyfriend." Betty is at her best when she's dismissing the rest – let's hope we get to shot or two of classic badass Betty before the series finale.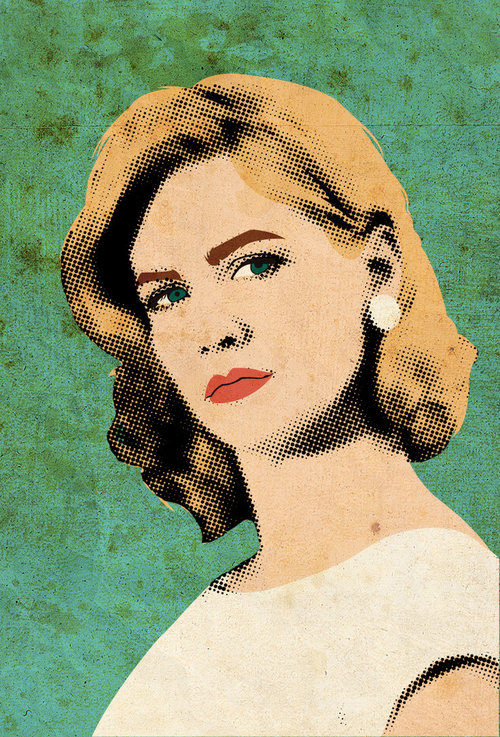 Image Source: Praetorius/DeviantArt
Toodle-loo, Zou Bisou!
It's hard to know if Don ever loved his trophy wife, or if he just hoped she'd look real pretty while cooking, cleaning, and caring for his children. Regardless, Flower Power has allowed Megan to blossom in sunny California, and her love for Don has wilted. Will their separation be permanent this time?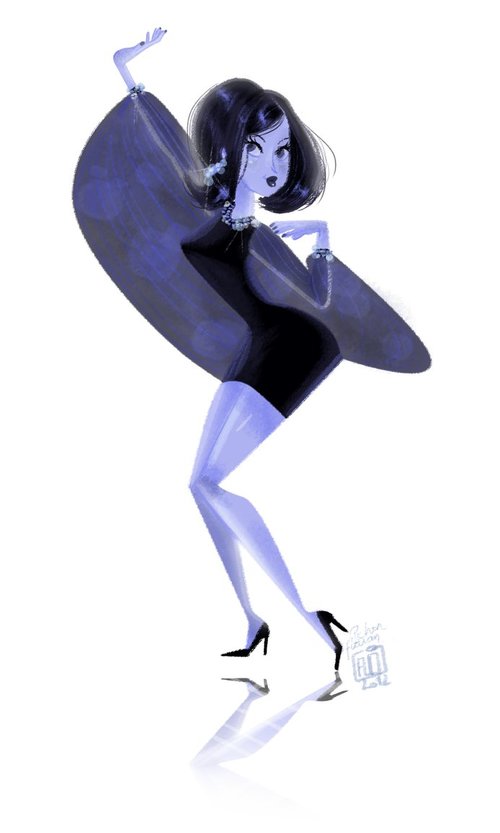 Image Source: ArtofFlo/DeviantArt
Sneaky Pete
Pete Campbell might be a smooth, if not cutthroat, account manager and partner, but as a husband and father, he's had a rocky past. Now that he's been single and free to live as he pleases, will Pete be more easy going... or even more of a loose cannon?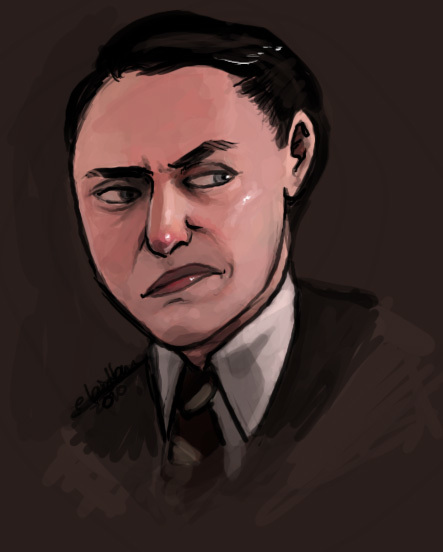 Image Source: Yappatan-art/DeviantArt
Growing, Growing... Gone
Sally Draper, Don's eldest, has literally grown up before our eyes from a little five-year-old to a cautiously rebellious teen. Despite having two often-distant parents – in Don's case, physically as after the divorce she lives with Betty, who in turn can be an emotionally distant – Sally is often the most grounded of all. And the only one that can tap into the heart of what matters most.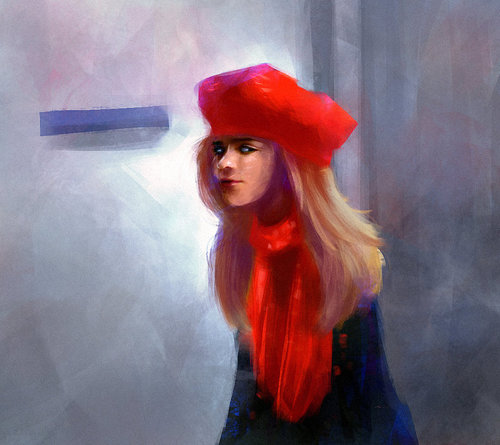 Image Source: Sleepy Armadillo/DeviantArt
Gang of Five
Although Mad Men creator Matthew Weiner is notoriously tight-lipped about plot points, we do know that the end will go back to the beginning, with a focus on the core Sterling Cooper team that started the series. And supposedly as much as some things change, others remain the same. In other words, the show will continue to drive us... mad.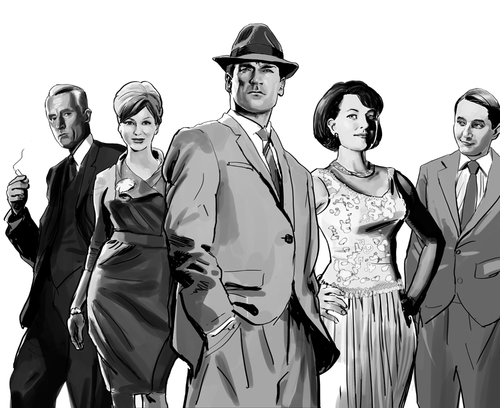 Image source: Eric Koda
Hair of the Dog...
Before we go, just one more shout out to our favorite mid-century modern man, Don Draper. Be sure to watch the video "making of" this gorgeous piece by artist César Moreno, "The Universe is Indifferent." We especially appreciate the finishing touch turning the portrait into a fitting bittersweet Hershey bar brown.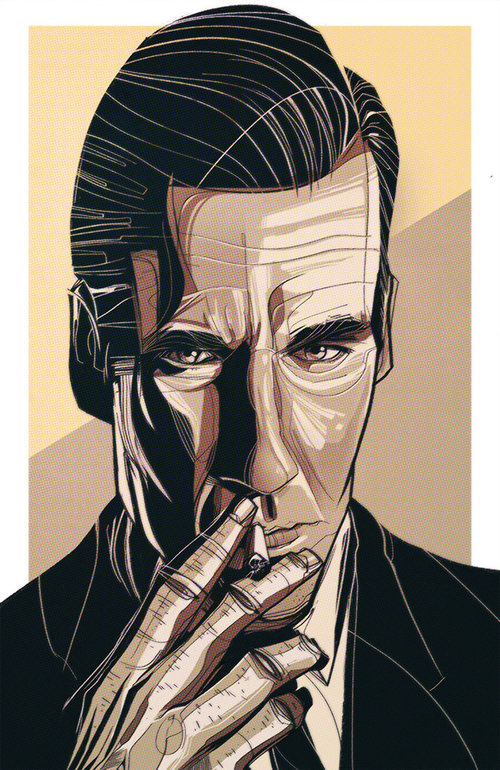 Image Source: César Moreno/DeviantArt
Don't forget, you can always submit your own Mad Men fan art to our gallery.