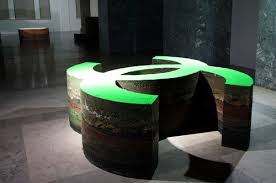 Coco Chanel once said "In order to be irreplaceable one must always be different." Chinese artist Mu Chen's take on Chanel's iconic logo for her "Color" series certainly stands out from the crowd.
Using five different types of earth collected specifically from China and using an ancient method of tamping earth, Chen covers each logo piece, which includes McDonald's, Nike and Apple among others, with a shocking layer of super bright pigment.
I discovered her work on this awesome website LogoDesignLove, and it was love at first sight.
Her oversize logos and bright colors immediately made me think of our Artist-in-Residence Jonathan Stein.
Go here to bask in the glory of his blinged out brand art.