Whether Barbie was your beloved sidekick or the toy you tore apart, Mattel's famous doll has become a beloved staple in many children's homes. Introduced on March 9th, 1959, the Barbie doll has became an icon of beauty, culture and fashion for the past 56 years. Though met with some controversy over the years, Ruth Handler, the inventor of the Barbie doll, staunchly believed that "Every little girl needed a doll through which to project herself into her dream of her future." So it's not surprising that Barbie has inspired some incredible fan art.
I'M A BARBIE GIRL IN A BARBIE WORLD
Dina Goldstein, a conceptual photographer, dissected the Barbie Dream house in her piece In The Dollhouse. The themes of her work addressed femininity, modern day romanticism, and materialism. Barbie and Ken might have been covering up a failed relationship for many years, but hey let's remember the time Barbie dumped Ken on a national scale. "I am BARBIE, hear me ROAR!"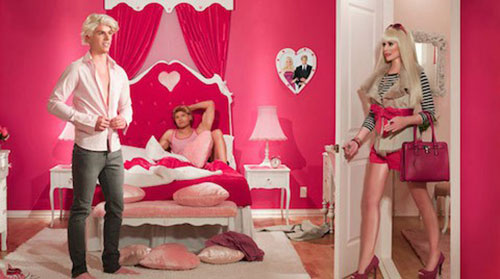 Image Source: Dina Goldstein
ART MUSEUM BARBIE
In 2009, Barbie turned 50 years old. To commemorate this cultural event, French artist Jocelyne Grivaud recreated famous masterpieces using Barbie dolls.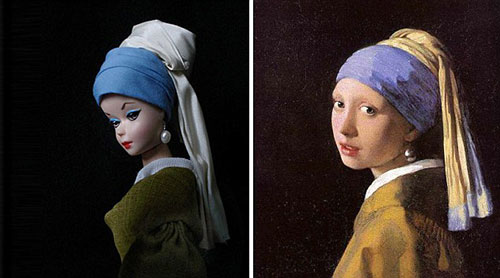 Image Source: Feeldesain.com

In an interview with the DailyMail, Grivaud stated, "'Barbie is often criticized for being too blonde, too superficial, too skinny, too 'ideal marketing,' too 'this' and too 'that' so my aim was to adjust Barbie's profile to resemble iconic representations that were popular and praised throughout history." To be honest, we might like these brand recreations over the original classics!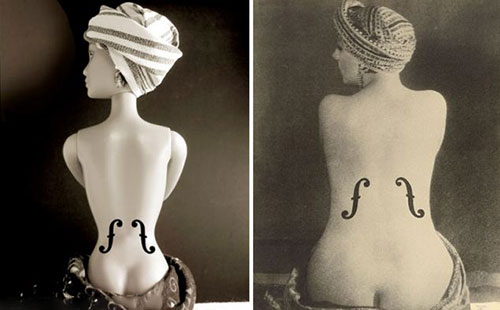 Image Source: Feeldesain.com
ALTERNATIVE ART BARBIE
Barbie has been a flight attendant, a doctor, and a teacher, but now she is a part of an experimental art show. The Annual Altered Barbie Art Show is an exhibit where artists transform the iconic dolls into unusual art that reflect modern themes of war, sex, and identity. These are not your mama's Barbies (or your sisters, or your daughters, or yours, for that matter) – and actually, in our opinion, they're a helluva lot cooler.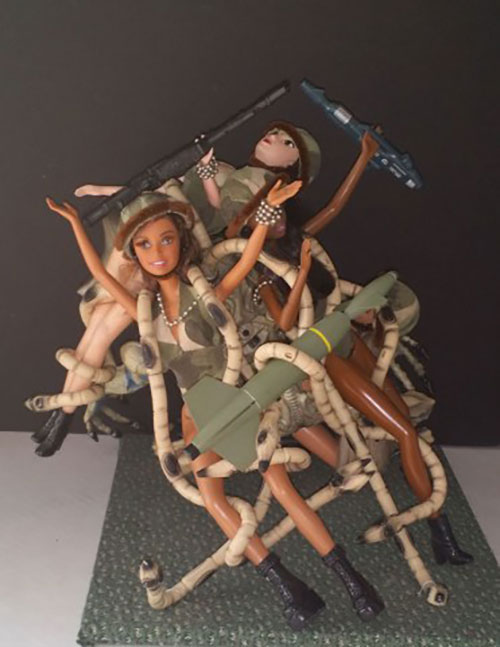 Image Source: lavonnesbarbies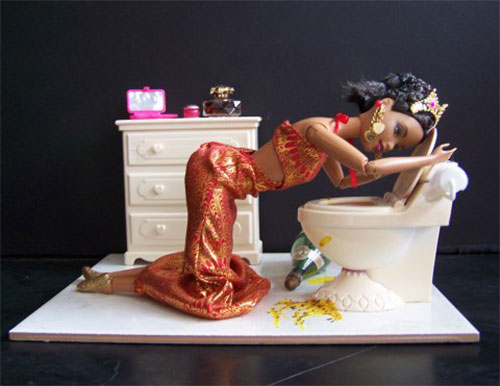 Image Source: lavonnesbarbies
Whether it is conceptual photography or experimental art or just for playing dress up, Barbie will continue to inspire artists of all generations for many more years to come.
Happy Birthday Barbie – you don't look a day over 18!